Version 3.10.20 of the Perfect Diet Tracker is now available for download directly from our website. This update improves the performance of the app, improves the core food database, contains a few small bug fixes and helps add support for future operating system updates and versions.
Link to Download Perfect Diet Tracker Software Update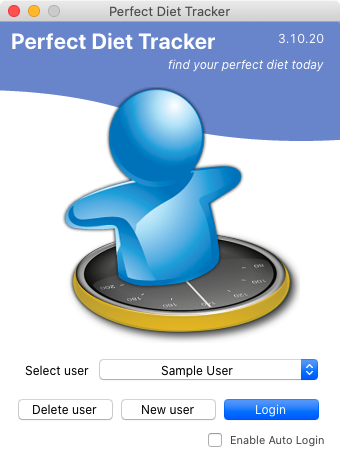 Why upgrade?
There is no need to upgrade your diet software at all. If you already have a version 3.10.x release and it is working for you then the minor bug fixes probably don't apply to you and there is no need to upgrade, just keep using the existing version.
If you have updated your operating system and the Perfect Diet Tracker is no longer working then this update may be perfect for you.
Free as usual
The upgrade is free, you can use your existing Diet Tracker unlock code to use it. In fact, if you are upgrading the software will usually find the existing code on your system.
Upgrading on Microsoft Windows
When we upload a new software update for Microsoft Windows it can take a while for Microsoft to update their 'Defender SmartScreen' definitions so you may get a purple warning window when you try to install the update. You can click on 'more info' on this purple screen and then select 'Run anyway' to continue with the installation. You will then be shown the regular 'signed by' page and installer.
Upgrading on a Mac OS X system
If you have a Mac there are two options. If you bought through the Mac App Store just wait, the update will appear in the App Store in the next week or two as Apple rolls out the update gradually. If you purchased directly you can download the update now from this website. The update will work with the latest Catalina and Big Sur OS X versions (as well as older versions of OS X).
Upgrading on a Linux system
Upgrading the diet software on Linux is easy, just download the .zip file from our website and replace your old Perfect Diet Tracker executable with the new one. There are two versions of the diet tracker for Linux in the zip, one for 32-bit systems and one for 64-bit builds. You will usually find just one of the two versions will work and that is the one you will want to use.
Any problems?
If you have any problems at all or would like to suggest future features for the diet tracker please contact us. With COVID measures it makes sense for our staff to be able to work from home where possible so we have a new ticket system that lets us help you from wherever we are. Unfortunately, this does mean telephone support is still temporarily unavailable, but our research has shown the new system seems to be preferable, we respond quickly and can offer a better level of support.
Thank you
As usual, thank you! We continue to maintain the Perfect Diet Tracker and keep it free of subscriptions or memberships. Thanks again for your support.