The Perfect Diet Tracker download should start automatically in the next few seconds. 

If it does not, click here to restart the download.
Installing the Perfect Diet Tracker on a computer running Microsoft Windows
1. Download the Perfect Diet Tracker installer
Your browser should start the download automatically.
Important: Windows will show a message to let you know you are downloading an application from the internet and only to continue if you trust the source. Apps are now signed by the project's lead, 'Hayley Henshaw'.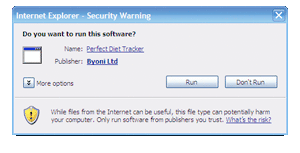 2. Complete the installation
You will be asked if you want to 'run' or 'save' the file when the download is complete. The run option will start the installer as soon as the download is complete, the save option will save the installer to your computer so you can install the software later.
The installer will now take you through the easy step by step setup of the software, placing a Perfect Diet Tracker icon on your desktop so you can start your free trial.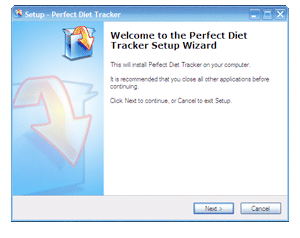 3. You are good to go!
To start your free trial simply double click on the Perfect Diet Tracker icon on your desktop.
The software will then start and take you through the steps needed to set up a new user.
Need any more help? Check our our support section.